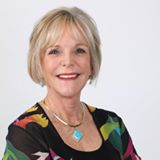 Martha Ireland, PhD, RN, CS, CEDS-S, BC-TMH is a certified eating disorder specialist with ADE, Inc., also known as Altering Disordered Eating.
Dr. Martha Ireland is a seasoned intuitive psychotherapist and a licensed psychiatric clinical nurse specialist who embraces a variety of healing methods and is grounded in both theory and practice.  Her Ph.D. in psychology is from Florida Religious Studies Institute, her Masters in Counseling from the University of Delaware, and her Bachelor of Science in Nursing from the University of Vermont.  She has been in private practice for over 20 years, working creatively with many women, men and adolescents dealing with eating disorders and related issues.  She successfully owned and operated a multidisciplinary outpatient clinic for treatment of disordered eating in Delaware.  She has been a CEO of both profit and nonprofit organizations, been published, led workshops, and lectured around the country.
Dr. Ireland's private practice is located in Ashburn, Virginia. She offers services on-site and through Virtual Therapy Connect, which provides an opportunity for individuals to receive services from a distance when appropriate.
Dr. Ireland also works closely with the other health care professionals to develop a multidisciplinary team approach to treatment for each client. This approach allows for individualized treatment plans that support the specific needs for each client.
In addition, Dr. Ireland is an approved IAEDP Supervisor who mentors other clinicians seeking to be certified as eating disorder specialists.